Purpose-Built for Fast Relief
Using Balmex AdultAdvantage is easy–simply apply to skin, and let the healing begin. But there's actually a lot of science going on behind the scenes with our purpose-built skin relief cream.
BProtected Skin Relief Cream
Balmex AdultAdvantage

BProtected Skin Relief Cream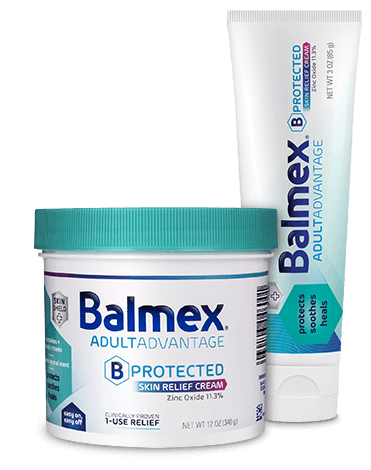 Protects. Soothes. Heals.
The Balmex AdultAdvantage formula provides a barrier against wetness and protects against skin chafing with zinc oxide AND contains Skin Shield technology to break down digestive enzymes which irritate skin due to incontinence. That means Balmex has two modes of action, while other products have only one.
Clinically proven to work in just one use*, Balmex AdultAdvantage is both easy to apply, and easy to remove. Simply cleanse the affected area and gently pat dry. Apply Balmex generously as needed, and use a dry tissue to remove excess product from skin.
With a pleasant, neutral scent, Balmex soothes the irritation from bladder leakage, and ensures you'll BProtected from future irritation and chafing – so you can live life to the fullest.
*Data on file.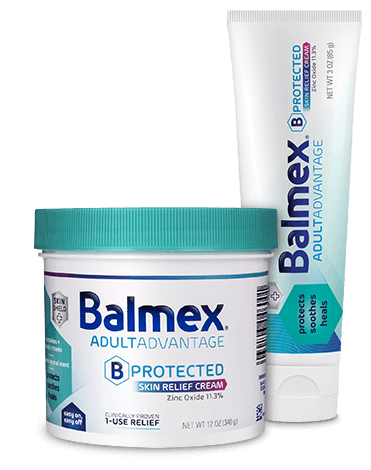 Key ingredients:
Zinc Oxide: 11.3%

Treats irritated skin and helps seal out wetness to protect against further rashes.

Skin Shield Technology

Our exclusive blend of botanical extracts help neutralize and block skin irritating enzymes.

Vitamin E

Moisturizes and provides soothing relief, improving the healthy appearance of skin.
Balmex AdultAdvantage

BConfident On-The-Go Kit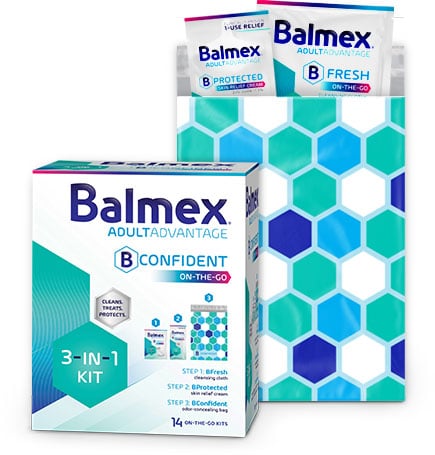 Cleans. Protects. Treats.
When you're living with light bladder leaks, being prepared helps you feel more confident — and less worried about the "what ifs." Balmex BConfident On-The-Go 3-in-1 Kit allows you to live confidently.
Each kit contains a pre-moistened personal cleansing cloth to clean, plus a single-use sachet of our BProtected skin relief cream to protect, soothe, and heal. And it's all packed in a discreet, disposable bag that's easy to take along wherever you're going.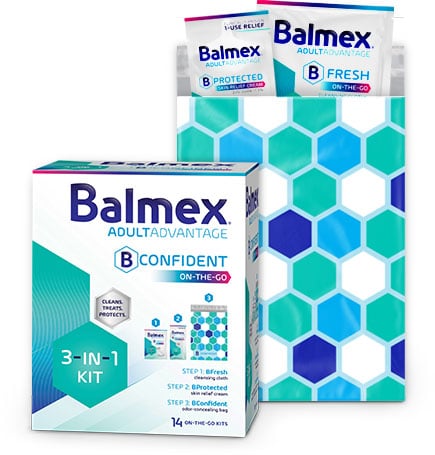 Each kit contains:
BFresh

A SkinFresh pre-moistened personal cleansing cloth to cleanse the affected area.

BProtected

A single-use sachet of Skin Shield relief cream to protect, soothe, and heal.

BConfident

A discreet bag to conceal embarrassing odor and dispose of kit contents after use.